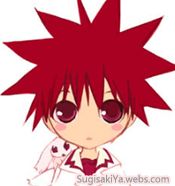 Hola! bienvenidos una vez más al blog sobre la mangaka japonesa, Yukiru Sugisaki (
杉崎ゆきる
), autora de series manga como DNAngel, Lagoon Engine, Rizelmine, The Candidate For Goddess, Ascribe to Heaven, 1001knights o Junkissa neko!
Recordad que este blog está disponible en ESPAÑOL e INGLÉS! dejad vuestros comentarios en cualquier idioma.
Visita la web SUGISAKIYA para más información y nuestras redes sociales:
twitter - facebook - tumblr - devianart - crunchyroll

NOVEDADES DEL BLOG
Estamos con remodelaciones en el blog para la mejora de las lecturas y diseño. por favor dejad en los comentarios y sugerencias.
· Resumen de los primeros capítulos manga de los MANGAS de Sugisaki
· nuevo look de la web y blog del FANSITE!
· Música para el blog: buscando un
music player
~
· POSTS in ENGLISH: working to put this button below to link the posts the the translation version by me (and not for the google translator)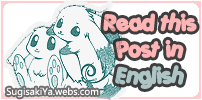 · NUEVA sección de elección mensual del cover de FACEBOOK! vosotros elegireis la imagen del la portada de la página de facebook cada mes con vuestras participaciones, espero que se anime mucha gente
RECOMENDACIONES DEL BLOG
·

#keepcalmandwaitDNANGEL!
·
Entrevistas de Sugisaki Yukiru
· Visita nuestro TUMBLR !!
· Nueva lista de AFILIADOS/RECOMENDACIONES en la lista de blog.
- rokudenashi (CLAMP) - belldandy - El blog the Tante Kid - Kokoro no CLAMP - Yurika sekai - Marmalade boy WORLD
*Si quieres afiliarte, sigue este link
WEBSITES TALKING ABOUT SUGISAKI
-
taringa.net
-
comic.pixiv.net (ASUKA)
-
YOUTUBE
-
shoujo-love.net

by Rika